As one of the most eco-friendly B&Bs in the South East, the Skyhouse promise of 'sumptuous and sustainable guest accommodation' will appeal to anyone interested in eco houses, greener ways of living and sustainable tourism.

As is often the way, I first came across Skyhouse on Twitter when they were in the building phase. I talked to Sophie, Skyhouse's Business Manager, to find out more about this green B&B.
Skyhouse Sussex is a B&B with a difference, offering guests the opportunity to experience green living in luxury surroundings. This beautiful 3 bedroom luxury B&B in a 'Grand Designs' eco house is located in Lewes, 2 miles from Glyndebourne and adjacent to Lewes Golf Club, with stunning views over the historic town and the South Downs.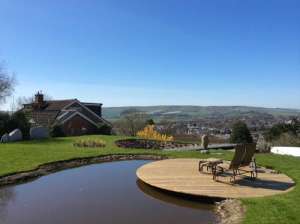 As featured in The Guardian's British boltholes, March 2015, travel writer Isabel Choat wrote: "There's a sense of peace and wellbeing…we didn't want to leave."
Guests can enjoy the spacious lounge, terrace and garden, healthy breakfasts and in-room massage and beauty treatments. Skyhouse Eco Chic B&B is also dog-friendly and wheelchair accessible. Double rooms are £150 including breakfast with a £30 discount for single occupancy. I like that there are only a few rooms as I think less guests equals more peace and quiet.
As Lewes's first zero carbon home and guest accommodation, the building was officially opened in March 2015 by Lewes MP, Norman Baker, who hailed Skyhouse as "a model for the way forward not just for Lewes but for the country as a whole". This zero carbon house is extremely energy efficient, powered by biomass energy and 32 solar panels, and uses harvested rainwater to flush the toilets.
What prompted you to build an eco house and green B&B?
Skyhouse is owned by Amy Burgess who established a successful US mentoring company before moving to Lewes four years ago. Her inspiration for building the eco house and green business in Sussex came in part from meeting Anita Roddick, founder of The Body Shop, in the US 20 years ago.
"We found ourselves facing a very special moment in time where we had the good fortune to build a new home. At the same time, we were poignantly aware of the emerging clean energy industry evolving at a rapid rate and wanted to jump in and be a part of this unique industry's development. These things combined and led us to the mission of building a cutting edge energy efficient home."
Of the ethos behind Skyhouse Eco Chic B&B, Amy says: "We want to offer guests the opportunity to experience what it feels like to live in an eco house. At the same time, we hope to challenge people's assumption about luxury living, showing them that with careful consumption of resources, it is possible to live a low carbon lifestyle. Ultimately, we hope our guests go home inspired by what they have seen here and brimming with green ideas for their house and garden".
What challenges did you face during building?
Skyhouse Sussex is the first zero carbon Bed and Breakfast in Lewes and amongst a small but growing number of luxury B&Bs in the UK using sustainable energy. "Zero carbon" means that Skyhouse produces at least as much energy as it consumes which is achieved by:
Making everything in the house as energy-efficient as possible, so no energy is wasted.
Using the energy of the sun in various ways.
Reducing to a minimum the amount of energy used in building the property.
Completed in November 2014, Skyhouse is a one-of-a-kind building by German eco specialists, Baufritz in collaboration with local Sussex contractors. Put together at breath-taking speed over four and half days in May 2014, the pre-fabricated house was designed using low-carbon construction processes, sustainable timber, and other recyclable and biodegradable building materials.
One of the biggest challenges of the build project was to understand the implications of switching to clean energy and meeting the requirements of a guest accommodation business. Top of the list, of course, is plenty of hot water for showers. But how to achieve this whilst minimizing carbon emissions and keeping energy bills low? The learning curve on how to get to zero carbon involved contractors, tradespeople and even sustainability experts. Choosing a low carbon space heating and hot water solution proved to be a complex decision but after seeking advice from various sources, Amy decided upon a biomass boiler run on sustainable wood pellets, provided by local supplier and biomass specialist, A Greener Alternative.
During the construction process, Business Manager Sophie Isachsen wrote a blog, 'Which Way Is Green?' about the dilemmas and choices that Amy faced in building her eco house (click on each photo to read a post).
Sophie recommends the following posts for fans of eco construction and green living:
Eco features
The main structure of the prefabricated building was erected in just five days in May 2014 using low carbon processes and sustainable materials and you can see a time-lapse video of the 5 day build process on YouTube.
Skyhouse Sussex is a healthy home designed with well-being in mind.  By building a zero carbon home, Amy Burgess felt she was joining the wider community effort to care for the environment – Lewes is a Transition Town and part of the South Downs National Park.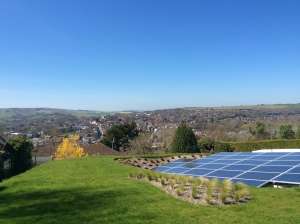 The houses's zero carbon standard features
Making the most of the warmth of the sun to warm the house (passive heating)
High grade insulation and airtight construction including triple glazed windows
Heat exchanging ventilation (warms the fresh air coming into the house using the stale air going out)
Renewable electricity from solar PV panels
Heating and hot water from biomass boiler using wood pellets from sustainable sources
Using A rated energy efficient electrical appliances where available
Low energy (LED) light bulbs throughout
Light sensors and timers are used on internal and external lighting to save energy
Making the most of daylight with extra-large windows

Green measures
It doesn't stop there though as other measures to be more environmentally-friendly include:
Rainwater collection tanks used to flush WCs, run the washing machine and water the garden
Recycled paper is used in our stationery as well as for all tissue products.
Purchasing Fair Trade products, non-GM foods, free range eggs, wherever possible
Buying local produce from suppliers actively demonstrating good animal husbandry and welfare
Kitchen and garden waste are composted to provide organic mulch for gardening
Recycling bins with biodegradable bin liners available for guest use
Biodegradable 'green' products are used for all on site cleaning and laundry
Eco-friendly guest toiletries from re-usable pumps to avoid wasteful packaging on smaller items
All gardening is pesticide free and we aim to encourage beneficial insects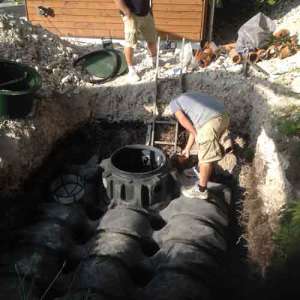 Green guests
Guests are encouraged to consider their environmental impact and take green actions by:
Using bath towels and bed-linen more than once, thereby reducing energy and detergents
Switching off the TV rather than leaving it on standby
Recycling rubbish in the bins provided
Arriving on public transport, bike or foot
Exploring the information  provided on what makes our home Zero Carbon
Leaving with knowledge of green actions for their home and life
Sustainable tourism
Skyhouse promote sustainable tourism by:
Offering a 10% discount on room rates to guests who leave the car at home and who arrive by public transport, bike or on foot
Making provision for walkers: we provide storage for muddy boots and walking maps of the area
Promoting awareness of the environmental sensitivity of the South Downs by providing information from the South Downs National Park, Sussex Wildlife Trust and RSPB
Encouraging guests to support local producers, pubs, restaurants and cafes and promoting local tourist attractions and events
Are most of your guests staying for the eco aspect or doesn't that come into their decision?
Sophies says:
Skyhouse has been open for 2 months and is already inspiring guests who have stayed there to think about ways to 'be a shade greener' in their own life.
One guest wrote to say that her stay at Skyhouse was "the most relaxed and warm I have felt for ages; you have really inspired us." She added, "We re-visited the report on our proposed extension from an architect when we got back, and are now about to arrange for plans to be drawn up, and will get more insulation in there as per your suggestion".
Undoubtedly many guests choose Skyhouse because of its stunning location and 'grand designs' credentials. However, Skyhouse is also favoured by guests actively wanting to stay in luxurious surroundings where the owners prioritise the well-being of the environment as well as that of the guests.
As a relatively new business, there is still much to do in terms of promoting Skyhouse as a 'green destination' but Amy and her team are confident that demand for greener holidays is on the rise. This B&B is will be reviewed by Richard Hammond of www.greentraveller.co.uk later this summer. In the meantime, the Skyhouse team look forward to welcoming visitors for a unique experience that will illuminate that luxury and indulgence really can go hand in hand with caring for our environment.
---
Found this website useful?
Please consider buying me a coffee to help support my site's running costs. Or share this post with your friends and follow me on social media. Thanks for your support!
---
Find out more